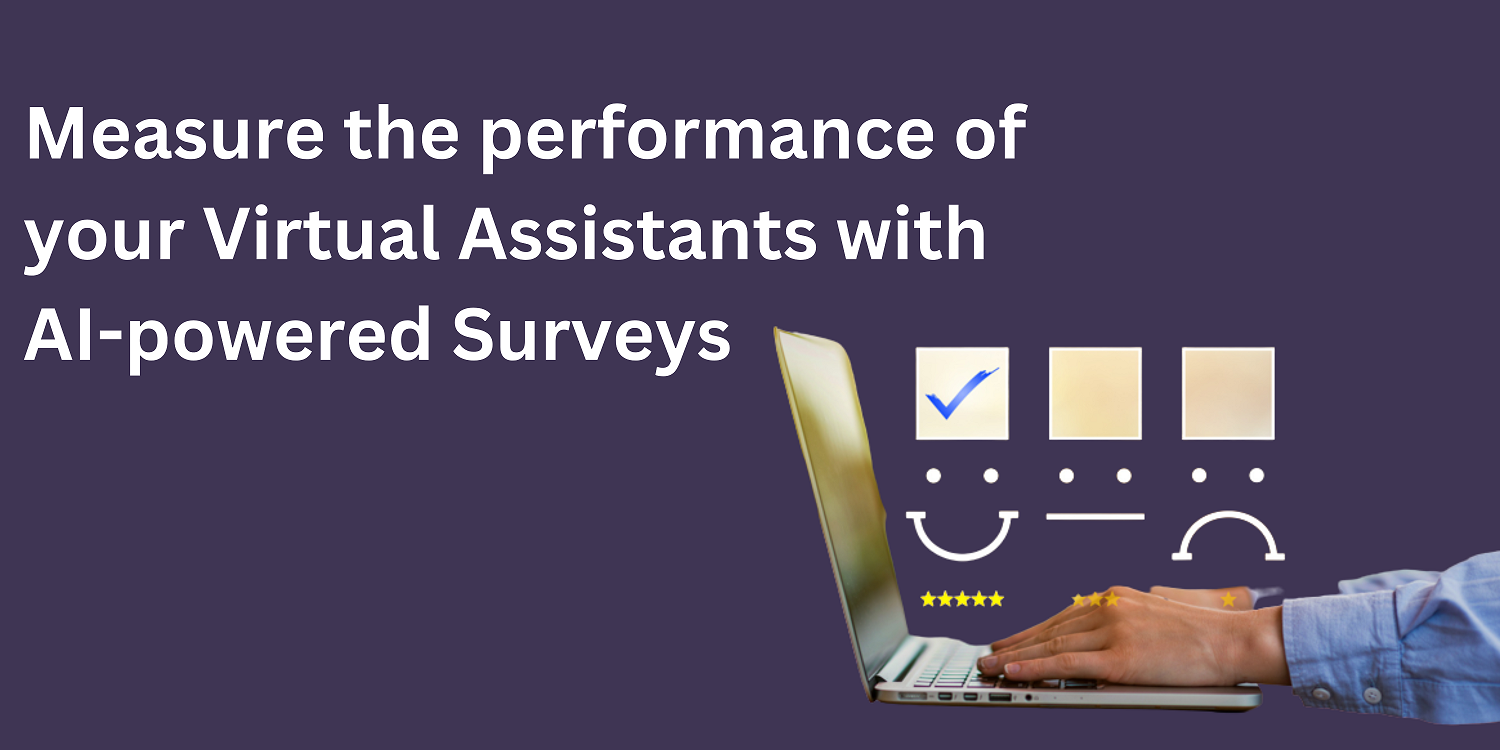 Measure the performance of your Virtual assistants with AI-powered surveys
4.70 billion people worldwide use social media platforms, and many of these users interact with Virtual assistants/chatbots regularly. The user interactions are dynamic in nature, with significantly diverse customer journeys and inbuilt human handoff; this necessitates a different approach to collecting and analyzing customer feedback via instant surveys.

Traditional surveys have a significantly low response rate as it involves a tedious process and the majority of the users receive several survey requests everyday that are all boring and filled with static questions.

A new generation of AI-based automated conversational surveys are helping businesses gain deeper insights into the customer experience without using traditional surveys. AI-powered conversational survey embedded with deep machine learning techniques and text analytics provides Voice of Customer (VoC) metrics such as Net Promoter Score (NPS), greater response rates, and more verbatim feedback.
Types of Surveys
A combination of quantitative and qualitative survey techniques is used to get feedback results that are both thorough and in-depth. Quantitative data provides the numbers, whereas qualitative data provides specific and comprehensive detail to understand the feedback results fully.

Customer feedback which can be analyzed statistically is referred to as quantitative feedback. Quantitative responses are gathered in various ways using a website or mobile app. They are easy to visualize and evaluate since they are objective/quantitative in the form of CES, CSAT, and NPS scores:

1. CSAT Score: Customer Satisfaction (CSAT) Score, which is generally assessed on a scale of 1-3, 1-5, or 1-10. It can also be found in the star or smiling scale format.

Example: On a scale from 1 to 5, how satisfied were you with the product?

1 2 3 4 5
Dissatisfied —-------------------------------------Satisfied

2. CES Score: The Customer Effort Score (CES) is a score that ranks a customer procedure or user journey from "extremely difficult" to "very easy" to complete.

Example: How easy was your issue resolved on a scale of 1—------5?

1 2 3 4 5
Strongly disagree—-----------------------------Strongly Agree.

3. NPS Score: Net Promoter Score (NPS) is a customer loyalty and satisfaction metric tool calculated by asking customers on a scale of 0 to 10 how likely they are to suggest your product or service to others.

Example: How likely are you to recommend a product to a friend

1 2 3 4 5 6 7 8 9
Not likely —--------------------------------Likely
Benefits of Quantitative Feedback
1. It is easier to collect, collate, and scale data without much interpretation.

2. It is simpler to monitor quantitative feedback over time and visualize it on dashboards to identify any unexpected changes.
Qualitative Feedback
Customers can freely express their views and opinions about a product and its aspects while providing qualitative feedback. Open-ended questions, or qualitative responses, allow respondents to react in whatever way they choose without being restricted to a limited set of options.

1. Sentiment analysis: It is the most effective approach for determining customers' attitudes toward the product or service. Based on the words and related emotions, the customers can share their sentiments and click on them as good, neutral, or negative.

Example :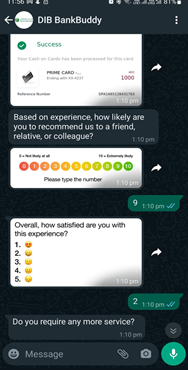 2. Open-ended surveys: Customers can freely express their ideas and opinions on a product and its qualities.

Example:

● What do you find most appealing about this product?

● What is your least favorite aspect of this product?

● How does our product match up against the competitive products?

3. Exit Surveys: Exit surveys, or surveys taken after people opt out of their subscriptions, are excellent qualitative and quantitative data sources. Exit surveys are sometimes known as churn surveys.

Example :

We would like to hear your feedback :

● The processing fee is high.

● I had issues with using the product

● I had challenges getting the support

● Others:..................................
Benefits of Qualitative Feedback :
1. An extended discussion is possible with qualitative feedback because of its open-endedness.

2. It's more beneficial when a business tries to understand customer preferences and focuses more on customer opinions.
Top Use cases of AI-powered surveys
The conversational and dynamic nature of interaction augurs well for the collection of pinpointed qualitative and quantitative feedback. Furthermore, the surveys based on the specific customer journey stage can provide deep insights into specific intent and help enhance the customer experience by leaps and bounds. Some of the conversational AI survey use cases are :

Agent Performance: Customers find live chat to be an easy way to engage and receive quick answers. And, as quickly as this tool (agent handoff) connects and engages with customers, it also collects feedback from the customer once a chat ends. It captures the customer feedback on the agent interaction with the help of CSAT, NPS, and CES surveys

Channel Performance: Customers can rate their experience on social media channels.

Example: Based on experience, how likely are you to recommend a channel to a friend, relative, or colleague?

0 1 2 3 4 5 6 7 8 9 10
NLP for Qualitative feedback Interpretation
Machine Learning (ML) and Natural Language Processing (NLP) are two of the most important subsets of AI that aid in analyzing feedback. NLP-powered technology examines each customer feedback response that is processed to provide a unique and personalized response to each customer. Natural language understanding (NLU) and sentiment analysis have enabled chatbots to predict the user's mood, which is useful in determining whether the conversation is heading in the proper direction or not. So, whenever the chatbot detects that the user is on the verge of becoming frustrated, it simply redirects the conversation to the human agent "Chat with a human agent" as a menu option. If the end-user believes the chatbot cannot solve the problem, they can select this option.

Feedback from chatbot surveys boosts response rates. Customers are more likely to respond to surveys and provide feedback if they receive personalized responses. Intuitively, a chatbot-powered conversational survey retains the advantages of online surveys and offers several additional benefits.

1. Chatbot can frame survey questions in a more personalized, conversational form, which improves customer engagement.

2. Financial institutions can use surveys as a powerful tool to enhance their products & services.

3. The surveys can help enhance the AI algorithm and customer journeys.

Bankbuddy cognitive banking solutions help financial institutions and banks automate the analysis of survey responses and concentrate on maximising customer feedback.